Posted by:

Madi Furlong
Comments:

0
Post Date:
May 26, 2020
---
Where in the U.S. is Kratom Legal?
Madi Furlong
Whether you're new to Kratom or an old friend of the popular evergreen plant, you might wonder about its current legal standing in the United States.
While scientists and advocates fight to keep Kratom legal, the Food and Drug Administration (FDA) and the Drug Enforcement Administration (DEA) have attempted to combat its popularity in the United States by pushing a Kratom ban. The FDA and DEA's grip in the big pharma world has presented many road-blocks for Kratom advocates. Primarily because of the efforts of advocacy groups such as the American Kratom Association (AKA), the worldwide laws revolving around our favorite Southeast Asian tree is continually changing.
So, where exactly is Kratom legal?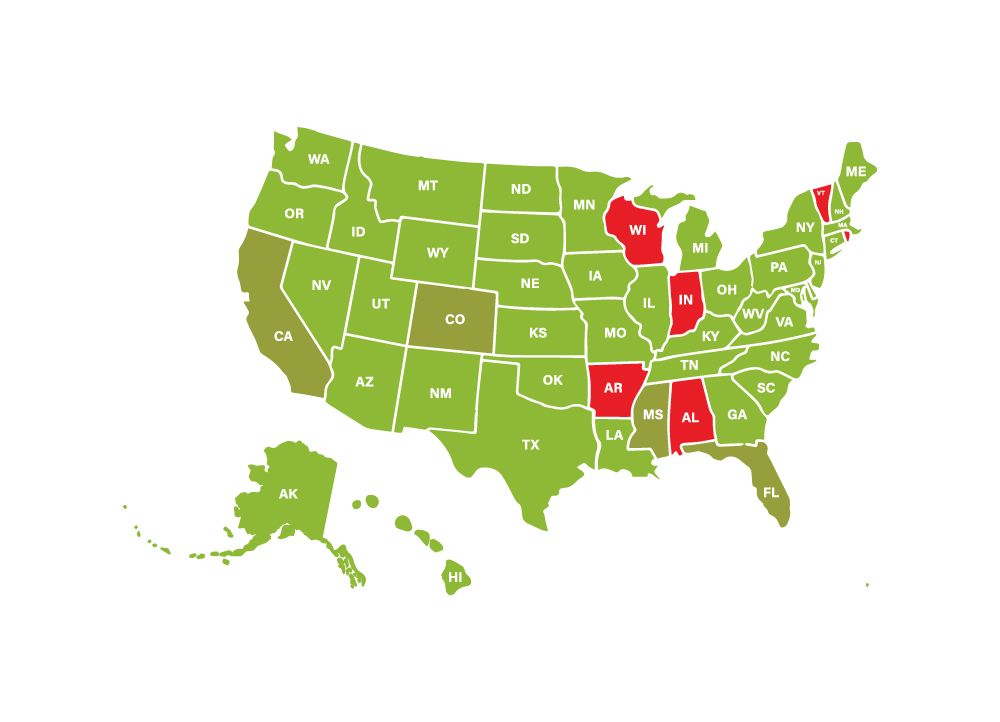 Within the United States, there are six states in which Kratom is labeled as a controlled substance. This means it's illegal to sell, possess, use, or grow. There are also a couple of counties within the legal states where Kratom use and possession are banned.
Alabama, Arkansas, Indiana, Rhode Island, Wisconsin and Vermont — Kratom is illegal in all areas of use, possession, and purchase.
Illinois — Kratom is legal for use, with exception to Jerseyville, to people over the age of 18.
New Hampshire — Kratom is legal to use for anyone over the age of 18.
California — Kratom is legal for use but banned in the city of San Diego.
Florida — Kratom is legal for use but banned in Sarasota County.
Mississippi — Kratom is legal for use but banned in Union County.
Colorado — Kratom is legal in Colorado, with an exception in Denver where it is "illegal for human consumption."
Tennessee — Kratom was banned but isn't any longer. The ban was lifted in 2017 and it is now legal to use Kratom for those over 21 years old.
It is now legal to consume, purchase and sell Kratom in the following states: Alaska, Arizona, Connecticut, Delaware, Georgia, Hawaii, Idaho, Iowa, Kansas, Kentucky, Louisiana, Maine, Maryland, Massachusetts, Michigan, Minnesota, Missouri, Montana, Nebraska, Nevada, New Hampshire, New Jersey, New Mexico, New York, North Carolina, North Dakota, Ohio, Oklahoma, Pennsylvania, South Carolina, South Dakota, Texas, Utah, Virginia, Washington, West Virginia, and Wyoming.
With the coming of the new year, states should be prepared to advocate on behalf of Kratom. 2020 brings new opportunities and the start of most state legislative sessions. Fingers crossed fellow advocates that we might see some laws changing in your areas that affect your favorite herbal friend.