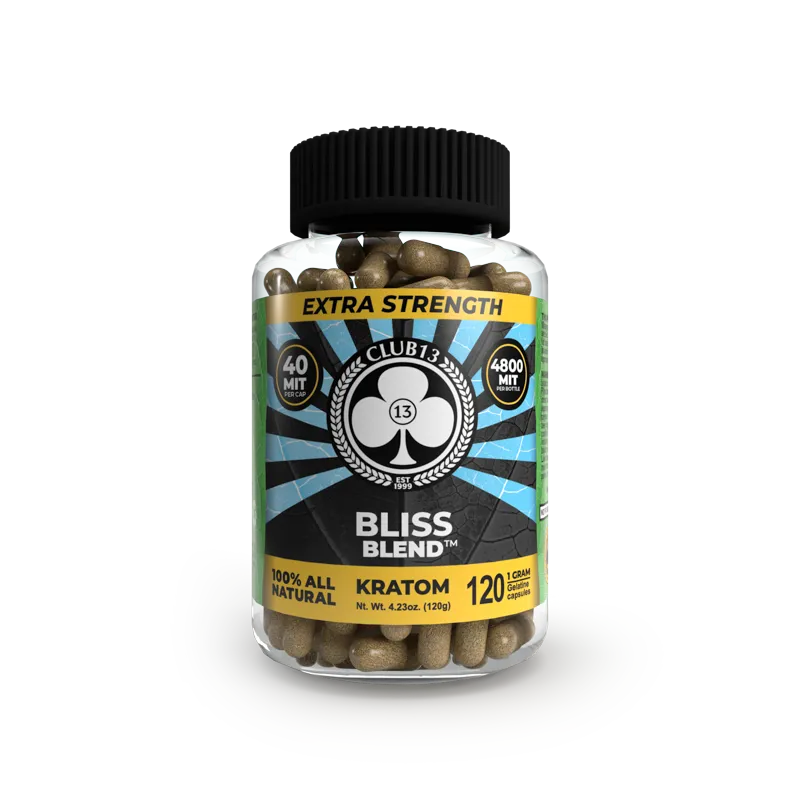 Extra Strength Bliss Blend Capsules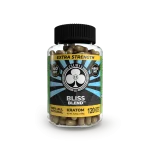 Extra Strength Bliss Blend Capsules
$12.81 – $136.83
$12.81 – $136.83
Description
Additional information
Reviews (1)
Description
Feel the Bliss
Introducing our revamped Extra Strength Kratom Capsules, now sporting a fresh and vibrant label design that mirrors the exciting changes happening inside the bottle. Our improved formula boasts higher Mitragynine (Mit) content per capsule, ensuring an even more potent and satisfying Kratom experience. But that's not all – our new labels proudly display the exact Mit content per capsule as well as for the entire bottle, providing you with transparency and confidence in every experience. Discover the perfect balance of style and substance with our enhanced Extra Strength Kratom Capsules today!
Leave work behind and relax with our new Extra Strength Bliss Blend Capsules.
Club13's Bliss Blend is a perfect case of "when opposites attract." We've coupled the high euphoria and high relief of our Green and Gold Kratom strains, creating one blissfully packed capsule. One of our newer proprietary blends, Bliss Blend, has rapidly become one of our most popular products. True Bliss awaits with our unique Bliss Blend.
Why try Capsules?
Kratom capsules are a great way to experience Kratom for new and experienced users alike. Firstly, the Kratom is virtually tasteless in capsule form. Secondly, the capsules are conveniently pre-portioned, making them ideal for people on the go. Each capsule contains approximately 0.950 grams of powder. 
Try our Extra Strength Bliss Blend Capsules to super charge your day. Our extra strength and regular strength Kratom products contain the same amount of Kratom in each capsule. To create extra strength Kratom, we extract the alkaloids that give Kratom its beneficial qualities and infuse our Kratom capsules with these additional alkaloids. This process provides for one powerful tablet.
Curious about where we source our Kratom? 
Look no further. Enjoy our Kratom sourced directly from the lush jungles of the South Pacific. Club13 works directly with local farmers to cultivate the best product the tropics offer.
Kratom needs heat, humidity, and the correct soil pH to thrive. For these reasons, Kratom trees thrive in Thailand's hot and humid regions, Indonesia, Papua New Guinea, and surrounding countries in the Pacific Rim. Kratom is unique because it requires perfect soil pH to produce the best product. "Perfect" for Kratom means a pH range between 5.5 and 6.5, high humus levels, porosity, and exceptional fertility. Club13 focuses on science and agriculture. You enjoy. 
Available in a variety of sizes and capsules for anyone's needs, grab a bottle of our Bliss Blend Kratom Capsules today and see why our customers love Club13 Kratom.
Additional information
| | |
| --- | --- |
| Weight | N/A |
| Dimensions | N/A |
| Bottle Size | 4, 10, 25, 50, 120, 275 |